home
login/ play
leaderboard
tips
about the game
contact
This online game is a fantastic medium for stimulating discussion and delivering the key curriculum areas of literacy and numeracy, as well as developing the pupils ICT and citizenship skills.
Lisa Fenaroli, Try Learning Centre Manager, Harlequins
The Small Business Game is an excellent resource that supports the key strands of Enterprise Education: Enterprise Capability, Financial Capability and Economic & Business Understanding. It is also a fun, interactive and innovative resource for teachers and students alike.
Mark Thomas, Enterprise Champion, StepClever, Liverpool and Sefton
About The Small Business Game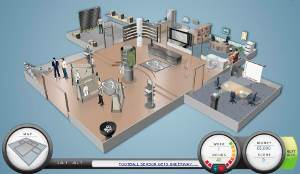 Through a Flash-based online game environment, students learn how to run a sports retail store based on retailing football club merchandise.
In the process they experience the start-up and management of a business, learning both from their mistakes and from their successes. It can be used in class as a fun, interactive way to learn about a variety of concepts from across the school curriculum.
Students can:
Learn what it is like to manage a small business.
Learn what works in business-and what doesn't work.
Experiment with different strategies and tactics to see the impact of your decisions.
Play the game well and you might be able to dominate the Leader board and win prizes.
FAQ:
Q. What if my computer crashes or my internet connection drops – are my results lost?
A. No. All of your decisions are recorded and saved during the game. Just login again and away you go.
Q. How do I get access to play?
A. Your school must be registered for you to play. To register, email [email protected] with your full name, school name and address.
Q. Can anyone play?
A. The game is for English secondary school students only. It is designed for ages 14 – 18.
Q. What do I need to play?
A. Just an internet connection and Flash Player 8 or higer installed on your computer. You can download the latest Flash Player from here: Get Flash Player. You do not need a suite of computers either. Teachers can choose to run the game from their laptop and project the game in class. As a registered teacher you can access our Teacher Resources Area for more ideas on how to use The Small Business Game in class.
Q. Do I have to be at school to play?
A. No. You can play at home or anywhere you can get internet access.